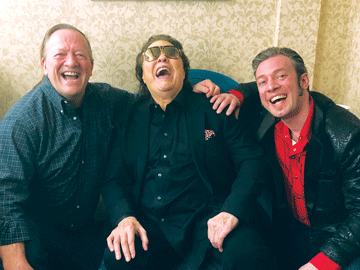 When a Blind Man Leads the Way –
Life and Times of RONNIE MILSAP
His biggest crossover hits include "It Was Almost Like a Song", "Smoky Mountain Rain", "(There's) No Gettin' Over Me", "I Wouldn't Have Missed It for the World", "Any Day Now", and "Stranger in My House". He is credited with six Grammy Awards and forty No. 1 country hits, third to George Strait and Conway Twitty. He was selected for induction into the Country Music Hall of Fame in 2014.
With more than 40 No. 1 Hits and over 40 million albums sold, Ronnie is one of country music's most successful and beloved crossover artists. Ronnie tours regularly, and has many millions of fans across the globe. He resides in the Nashville area with his family. http://www.ronniemilsap.com/

Ronnie Lee Milsap (born January 16, 1943) is an American country music singer and pianist. He was one of country music's most popular and influential performers of the 1970s and 1980s. Throughout his childhood, Milsap developed a passion for music, particularly the late-night radio broadcasts of country music, gospel music, and rhythm and blues. When he was seven years old, his instructors began to notice his musical talents. Soon afterward Milsap began studying classical music formally at Governor Morehead and learned several instruments, eventually mastering the piano.
He became country music's first successful blind singer, and one of the most successful and versatile country "crossover" singers of his time, appealing to both country and pop music markets with hit songs that incorporated pop, R&B, and rock and roll elements.
The new book product When a Blind Man Leads the Way – The LIFE AND TIMES OF RONNIE MILSAP includes braille while displaying some special and unique features for the sight impaired audience, listed in the US Department of Education covering all 50 states. Available everywhere in numerous distribution outlets and across the internet.

The music portion will be a new song sung by none-other than Mr. Ronnie Milsap and his duet partners including: Jason Aldean, Luke Bryan, Steven Curtis Chapman, Billy Gibbons, Jessie Key, Little Big Town, Lucy Angel, Montgomery Gentry, Kacey Musgraves, Willie Nelson, Dolly Parton, Leon Russell and George Strait.
Product promotion will be available from both the Really Big Coloring Book Publishing House, Riser House Publishing and the Milsap team. To find our more please visit www.RonnieMilsap.com or www.ColoringBook.com