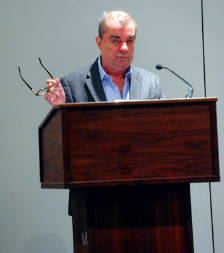 Taking students back to the 1960s, when Motown Records in Detroit owned the most technologically advanced studio at the time and 75% of the studio's songs were ending up on the pop chart, Bongiovi's presentation highlighted the importance of innovation driving technology to influence the mainstream market. As a teenager growing up in New Jersey, he experimented with acoustics and simple electronics to calculate the formula for the amount of reverb that Motown was using as opposed to every other major studio of the day. With his formula in hand, he called the chief engineer at Motown and told him that he had learned their secret. That phone call landed him an invitation to the famed Motown studio Hitsville U.S.A. while still in high school.
The experience Bongiovi gained during his trip to Motown and subsequent return visits garnered attention from studios back in New York City.
At seventeen, he had to choose between the engineering program at Rutgers and jumping straight into studio work.
With every studio in New York City wanting to get their hands on the Motown sound, he could have his pick of any studio and chose work instead of school. One example of how he showed off his Motown influence was when he had switches installed on the console at Media Sound that turned on or off channels, echo or other effects, the first time such innovations appeared in NYC.
In 1975, Bongiovi began building Power Station, his New York City studio that would incorporate ideas from his time at Motown like sight lines between musicians and calculated acoustical measurements in the design process. Just as technical aspects fueled Motown's success, the results were historic. "Power Station had more hit records than any other studio in the history of pop music," states Bongiovi. Those who were there back Bongiovi's claim. At an award presentation honoring Bongiovi, industry elite members of the crowd chimed in with the number of millions of albums they had sold that Tony had produced. After 1.5 Billion albums, people just stopped counting.
That famed studio, newly rechristened as Power Station at Berklee NYC, is introducing a new generation of students to world-class audio recording through a combination of Bongiovi's world renowned acoustical design and a 25 million dollar investment from Berklee Music and 6 million from the City of New York for upgrading the space with the state-of-the-art technology available today. Just as he benefited from exposure to the process of innovation as a teenager visiting Hitsville U.S.A., a new generation of students will benefit from Bongiovi's studio legacy and design.
Tony Bongiovi: From Motown to
Power Station and Beyond

New York City, NY—Wednesday, October 17, 9:30 am Tony Bongiovi's pledge to sharing knowledge and expertise with younger generations continued with his presentation at the 145th Audio Engineering Society show. The student/career event entitled "If I Can do it, You Can do it: Tony Bongiovi's Career at Motown, the Power Station, and Beyond" took place at the Javitz Center in New York City, NY less than a mile and a half from the studio where the legendary producer gained the majority of his notoriety.