Pastor

Troy - True-To-Life Lyrics and

Trunk-Rattling

Beats
Pastor Troy has become one of the most respected figures in hip-hop today. Not only does he appeal to the mainstream masses with major label attention, but he also keeps his grassroots fan base satisfied with a slew of independent albums, true-to-life lyrics and trunk-rattling beats.

Born Micah LeVar Troy in the College Park suburb of Atlanta, Pastor Troy made his recording debut in 1999 with "We Ready- I Declare War", independent album which got picked up by and distributed through Universal Records. Troy instantly gained national notoriety on the album's single, "No Mo Play in G.A.," where he dissed the at-the-time reigning champ of Southern rap Master P.
Riding high off his success, a laundry list of albums followed. In 2000, he released two highly praised underground albums Book I and Pastor Troy for President. Then, he came back again with the Universal-distributed "Face Off" in 2001. In that same year, he struck again with his affiliate group DSGB's (Down South Georgia Boyz) debut album "The Last Supper".

Pastor Troy's second album for Universal, Universal Soldier, came in 2002 and was his most successful, charting at Number 13 on The Billboard 200. The album's lead single "Are We Cuttin'" hit number 96 on The Billboard Hot 100.

Once again an independent rapper, Pastor Troy has released a small library of material from mixtapes to albums to chopped and screwed albums. Now with his latest offering, "King of All Kings", Troy is ready to take back what's rightfully his.

The Hooten Hollers - The Strange & Unexplained, Raucous & Intense

Columbia, Missouri's The Hooten Hollers spent ten years forging an inimitable style culled from their love of roots music and the unbridled spirit that birthed it. Citing influences ranging from rhythm & blues to rock'n'roll, honky tonk to jazz and soul to punk, the group's unique instrumentation forms a sound that not only nods to past but adds to history. Known for wild live shows and themes of the strange and unexplained, the result is both raucous and intense.
John Randall's demonically-tinged vocals and manic guitar, and Andy Rehm's screaming falsetto vocals and steady, pounding drum beat keep the band focused on their unique blend of deep blues and country punk. Kellie Everett brings the power with the deep rumble of her baritone and bass saxophones.

Winter solstice, 2018 marked the release of a new album, "Live in Missouri", recorded at The Blue Note in Columbia, MO earlier in the year. This new recording closely captures the intense energy of The Hooten Hollers in concert, with a combination of improvisation, extended versions of songs, and many fan favorites.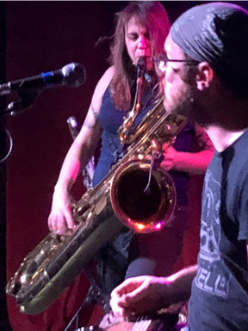 Photo Credit: Pastor Troy
Photo Credit: Pastor Troy
Kellie Everett: Baritone & Bass Saxophones
John Randall: Guitar/ Electric Lap Steel

Andy Rehm: Standing Drums
Kellie Everett: Baritone & Bass Saxophones
John Randall: Guitar/ Electric

Lap

Steel