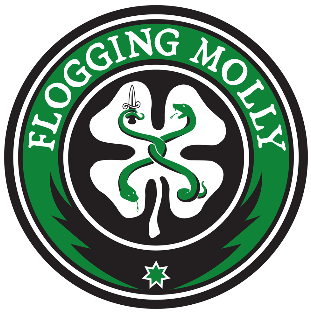 The Los Angeles based folk punk band is coming back to St.

Louis March 10th.



It's a good time to be Flogging Molly, the Los Angeles-based folk punk band that features Irish instruments like tin whistle, bodhran, fiddle, mandolin, banjo and accordion to lend tradition to their energetic electric sound. Their social media is filled with pictures from packed-out shows and color washed stages from their recent U.K. tour. The band is globe-trotting for almost the entirety of 2019 with dates spanning Europe throughout January and the first half of February.
A big draw during the weeks surrounding St. Patrick's Day, the group will swing back stateside and land at the Pageant on March 10th this year with Memphis-based Lucero and Face to Face from California.
The band is touring to support their sixth album, "Life Is Good" released on Vanguard Records, which touches on social-political topics ranging from immigration policies
to the economy to boomtowns turned ghost towns. Amidst the somber topics, Flogging Molly never stray from the optimistic bounce and catchy, Celtic mirth that have made them crowd favorites for over 20 years.
"The one thing we are is a positive band," adds Dave King. "When people come and see our shows, it's a celebration--of life, of the good and of the bad. And we have to take the good and the bad for it to be a life."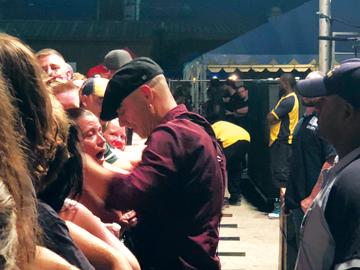 LOMM's Wayne Bell with Dennis Casey of Flogging Molly
Crowds go wild for this energetic, fun band