Kid Rock's Big Ass Honky-Tonk and
Rock n' Roll Steakhouse

Wayne Bell LOMM Reports

On a recent visit to Nashville's Broadway Bar LOM Mag dropped in the Kid Rock's bar, Kid Rock's Big Ass Honky-Tonk Rock & Roll Steakhouse. Rock is the latest celebrity to open his own bar on Nashville's Lower Broadway, # 217.
Live music, drinks, food with four floors, a rooftop deck and live music on each floor. Rock is the latest in a list of country stars to open their own venues, from Alan Jacksons, AG Good Time Bart, Jason Aldeans' Kitchen and Rooftop Bar, John Richs' Redneck Riviera to Dierks Bentleys' Whiskey Row to name a few.
Media reports state Rock and his investors group spent 20 million on the four story property. Wanting to have a good time, showing love to the people and tourists of Nashville is a common theme. Most recently Kid Rock was dis-invited as Grand Marshall of the Nashville Christmas Parade as reported by the Nashville Mayor,s Office due to Rocks politically incorrect statements about Joy Behar on Fox News.
In the spirit of giving and knowing, sharing is caring, Kid Rock paid off $81,000.00 dollars in lay-a-ways at a local area Nashville Walmart, helping hundreds of families with an early holiday present.
Kid Rocks' home town is Detroit, Michigan.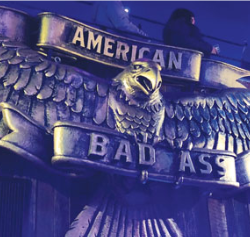 Kid Rock's Big Ass Honky Tonk and Rock And Roll Steakhouse.
Live music and great food await in Nashville.